Collaborative Treatment for Children and Adolescents with Medical Concerns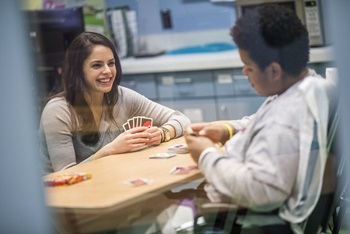 The field of pediatric psychology and therapy has continued to emerge and develop, in large part, due to the growing recognition that, for a child with a significant medical condition, behavioral and psychological factors play a significant role in the child's health outcomes. There is currently an abundance of research to support the notion that psychological intervention can have a positive impact of the child's indicators of improving health. The Weigh Smart® program and Feeding Day Treatment program are examples of multidisciplinary hospital programs where psychology plays a significant role in the care of the child's medical needs. Psychology also actively participates in MWPH's behavioral sleep program (link) for children that are having sleep difficulties by providing consultation and treatment to families of children who are having difficulties falling asleep or getting sufficient sleep for a variety of reasons.
At MWPH, pediatric psychology staff is present in many of our medical clinics to provide consultation to families of children with specific medical needs while they are here for their appointment with a medical provider. Psychology staff not only works directly with the family, but collaborates with other members of the child's treatment team to ensure appropriate coordination of care. In some cases, psychology may identify that ongoing mental health treatment is needed, and arrange for psychological services (including, but not limited to, testing, individual and group therapy) to provide additional care.
For children with Type 1 diabetes, psychology also offers children and adolescent therapy groups. The group currently runs for ten sessions and is designed to provide help to children and adolescents who are having difficulties with adjusting to the complex nature of their diabetes regimen. The goal of this group is to help provide solutions to many of the medical, behavioral, social and emotional issues that are unique to individuals with diabetes to promote positive health outcomes. For more information about the Diabetes group, please contact the Division of Psychology and Neuropsychology at 410-578-5080.