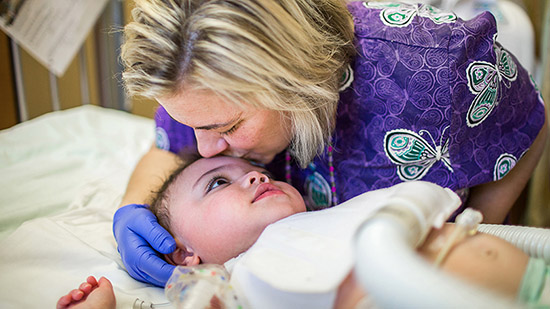 Why do families love Mt. Washington Pediatric Hospital?
Your child's health is a top priority. Of course, your child's health is a top priority to you, but also to the dedicated and caring team at Mt. Washington Pediatric Hospital (MWPH). Every day, our caregivers give their endless expertise and energy to the children they see, whether in our inpatient units or outpatient clinics. Nothing is more important than finding the right place for your child's treatment- we think you've found that right here at MWPH.
The heart of MWPH is our excellent integrated family-focused care.
Our services are both unique to MWPH and wide-ranging to meet the needs of our young patients.
We love to support parents, and we provide education so everyone is ready to go home.
MWPH provides strong support to patient parents, making sure they are ready for the transition to home. Examples include:
Parent Mentor volunteers

Language Services assistance

Sim Lab for parent learning
MWPH is passionate about providing the most child-friendly and positive healing process possible.
Colorful inpatient and outpatient facilities with accessible outdoor areas create a cheerful atmosphere. Nestled in the woodsy area in Mt. Washington, our hospital often feels like a warm retreat center.

With ample parking, shuttle services, a newly-renovated café and more, MWPH makes it easy for families to get the caregiving they need.
Learn more about our mission and our medical expertise. Our team puts their heart and soul into caregiving. That's why MWPH is where children go to heal and grow.