MWPH Rededicates Pediatric and Adolescent Rehabilitation Unit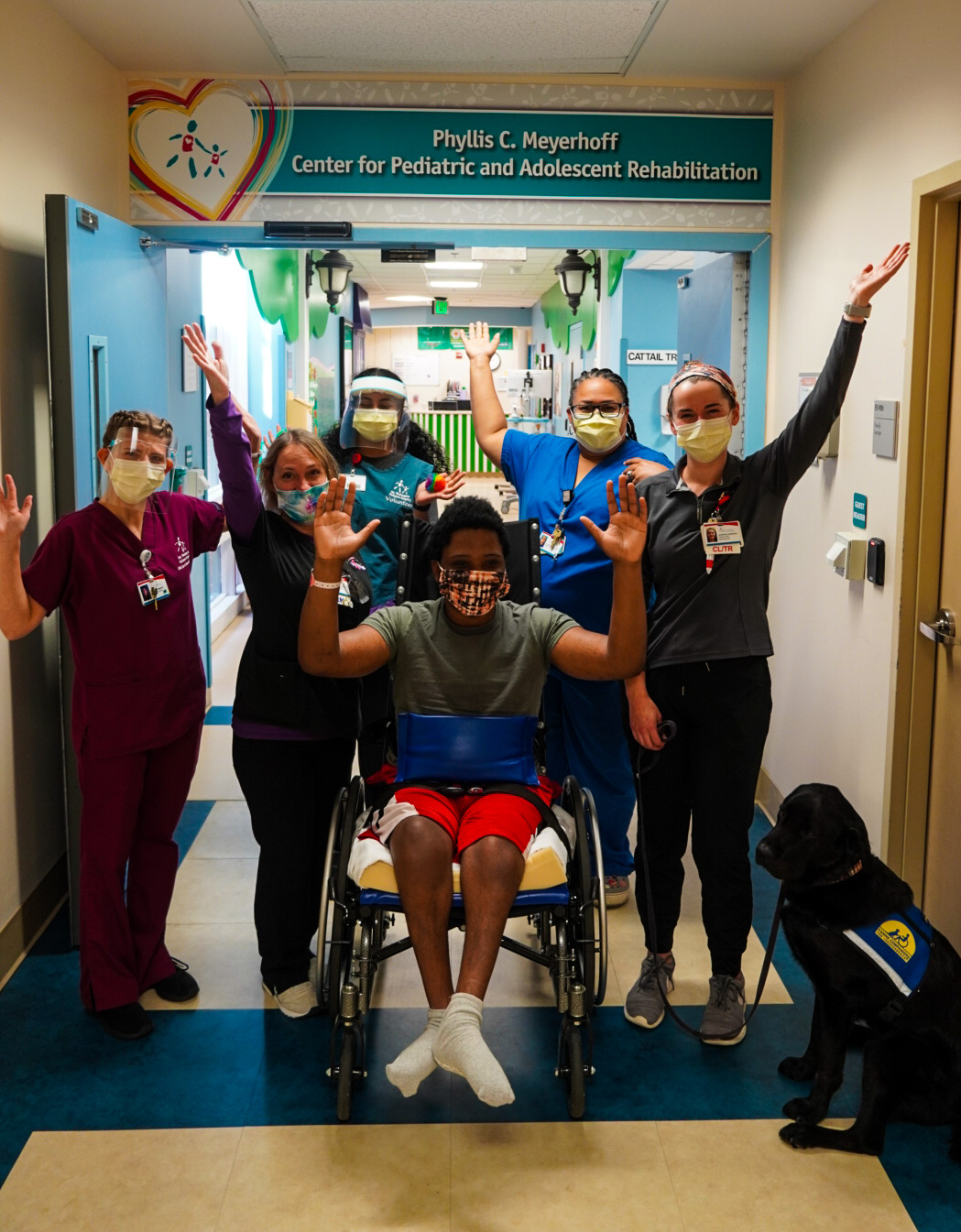 BALTIMORE, MD (October 4)-
Today, Mt. Washington Pediatric Hospital celebrated the rededication of the Phyllis C. Meyerhoff Center for Pediatric and Adolescent Rehabilitation. The inpatient unit offers physical therapy, occupational therapy and speech therapy for infant-to-adolescent aged children with orthopedic, neurological, and developmental diagnoses.
Phyllis Meyerhoff served on the Mt. Washington Pediatric Foundation Board for 10 years, after which she was unanimously appointed as an honorary trustee. Many years before, however, she was a patient at the hospital, which was then known as Happy Hills Convalescent Home. In 1938, when she was just four years old, Phyllis was treated at MWPH for rheumatic fever.
"Mrs. Meyerhoff's story truly illuminates how MWPH has responded to the needs of the community," noted Dr. Richard Katz, Chief Medical Officer at MWPH. "Rheumatic fever is a complication of strep throat. We almost never see that complication today due to antibiotic treatment, which was not available when Mrs. Meyerhoff was a child. The development of antibiotics changed the world forever. And now, MWPH treats a new group of diseases that we hope will disappear as well."
Fortunately, Phyllis Meyerhoff found health and healing at MWPH, and has continued on to become one of the hospital's greatest supporters. The Joseph & Harvey Meyerhoff Family Charitable Funds has made this significant gift to celebrate and honor Phyllis' dedication to the children at the hospital. This will support the creation of the Ability Center, a new treatment space which will provide state-of-the-art care for outpatient rehabilitation.
"The family funds managed by my siblings and children made this gift to honor Phyllis because of the joy she has given our father and grandfather since our mother's death," shared Terry M. Rubenstein, Chairman of the Joseph and Harvey Meyerhoff Family Funds. "MWPH has been an important part of Phyllis' life and her legacy to the community."
"Phyllis Meyerhoff has had a lifelong bond with Mt. Washington Pediatric Hospital, from past patient to board member, and from dedicated donor to great friend," said Sheldon Stein, President and CEO. "We are truly grateful for her unending support and commitment to our mission."

About Mt. Washington Pediatric Hospital: Where Children go to Heal and Grow
Mt. Washington Pediatric Hospital provides family-focused, integrated care to children with serious, chronic or complex medical needs. Since 1922, the hospital has helped children heal from illness and injury, and now treats more than 8,500 patients each year. The 102-bed hospital is a jointly owned affiliate of the University of Maryland Medical System and Johns Hopkins Medicine and has locations in Baltimore City, Prince George's County and in the community. For more information, please visit mwph.org.