Psychology and Neuropsychology Careers
The Division of Psychology and Neuropsychology at Mt. Washington Pediatric Hospital is committed to providing high-quality patient care to children and families on both an inpatient and outpatient basis. As a psychologist or neuropsychologist at our pediatric specialty care hospital, you'll have the chance to collaborate with other disciplines and work with children who have a variety of medical and developmental conditions, as well as behavioral diagnoses.
We provide a full range of services, including therapy, assessment and consultation, to medical clinics. As such, you'll be able to explore many different areas of patient care while also having the chance to develop areas of specialization. In addition, our division is committed to training and professional growth, and you'll be able to supervise and mentor students at all levels of training. Research opportunities are available as well.
Be part of a team that encourages professional growth.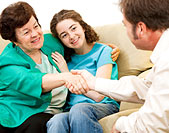 Exposure to a highly varied patient population
Opportunity to work with multidisciplinary treatment teams
Support for continuing education, both inside and outside the hospital
Opportunity to mentor students and participate in research projects
Our division offers psychologists and neuropsychologists the chance to work in a dynamic environment that supports new ideas and is responsive to the changing needs of the children we serve. Whether you've just completed your fellowship or have been practicing for many years, you'll have the chance to further your career and professional development at MWPH.
Learn more about Psychology and Neuropsychology opportunities at Mt. Washington Pediatric Hospital.