Mt. Washington Pediatric Hospital's President & CEO Announces Plans to Retire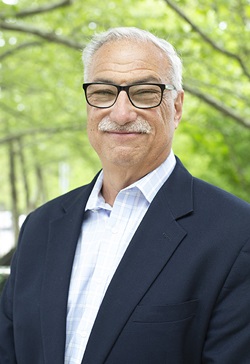 Sheldon Stein, the hospital's leader for the last two decades, plans to remain in his role until the end of 2022 to support the transition to new leadership
Baltimore, MD (May 24, 2022) – Mt. Washington Pediatric Hospital (MWPH), a leader in pediatric care for 100 years, announced that Sheldon "Shelly" Stein, President and CEO, is retiring with plans to remain in his role through November 2022 to support this transition.
Stein, the longest-serving leader in the hospital's 100-year history, joined MWPH in 1995, holding positions as Vice President of Patient Care Services, Chief Operating Officer, and President and CEO for the last 20 years. During his tenure, MWPH has grown from 151 employees and less than $20 million in net assets to 550 employees and $144 million in net assets and expanded locations from Baltimore City to Prince George's County, Harford County, via Telehealth, and in the community.
"It's hard to put into words what this hospital means to me, but it has been an honor and a privilege to serve so many children from Baltimore and beyond alongside our committed staff," said Stein. "I've always seen myself as merely a facilitator to remove obstacles and provide resources so that our passionate team of doctors, nurses, clinicians, and support staff can provide the best quality of care possible. My success would be nothing without the support of the entire MWPH community, whom I will miss dearly."
For two decades, Stein's leadership has been instrumental in elevating MWPH as a leader in post-acute pediatric care. Most notably in 2006, he played a pivotal role in establishing the historic joint ownership of MWPH with two leading academic medical systems: The University of Maryland Medical System (UMMS) and Johns Hopkins Medicine (JHM).
"MWPH represents a disproportionate amount of the care for vulnerable children, especially those with long-term needs," said Mohan Suntha, University of Maryland Medical System President and CEO. "Under Shelly's leadership, the hospital has remained committed to providing family-focused, coordinated care to all children, regardless of their ability to pay."
Stein supported the investment of more than $50 million in capital improvements during his tenure, including the opening and expansion of the Jack & Mae Rosenberg Outpatient Center and the growth of two inpatient units: the Sheila S. and Lawrence C. Pakula Center for Infant Specialty Care and the Phyllis C. Meyerhoff Center for Pediatric and Adolescent Rehabilitation.
"When I first arrived in Baltimore, I realized what a gem the city had in MWPH and that was largely credited to Stein's leadership and the culture he has created," said Kevin Sowers, Johns Hopkins Health System President and Executive Vice President of Johns Hopkins Medicine. "We're grateful for the partnership that we've built with Shelly and look forward to collaborating with his successor to provide a continuum of care for our patients so that they can heal and lead healthy lives in the community."
Stein is best known by his team for championing and empowering them to utilize innovative techniques and state-of-the-art equipment, as well as building several new programs including the nationally recognized Feeding Disorders Program, Weigh Smart®, the Trauma and Healing Program, the Learning Assessment Center, The Johns Hopkins Pediatric Sleep Center at MWPH, and the community re-entry program, Abilities Adventures.
Stein's health care career started 50 years ago as a respiratory therapist, holding several hospital-based positions in New York and Colorado before joining MWPH. He is a Fellow of The American College of Healthcare Executives (ACHE) and a member of The Maryland Chapter of Health Care Administrators, has served on several committees for both the Children's Hospital Association and the Maryland Hospital Association, and is recognized as one of The Daily Record's "Most Admired CEOs." Upon retirement, Stein is looking forward to golfing, traveling, and spending time with his grandchildren.
Stein closes out his career with the largest fundraising campaign in the hospital's 100-year history, Hope Heal Grow: The Centennial Campaign for MWPH. The $15 million campaign will be used to expand and grow the hospital and invest in the future of Maryland's children through the funding of new programs and innovative technologies.
"Shelly has led Mt. Washington through numerous challenges and milestones during his 20 years as CEO," said Fred Wolf III, the chair of MWPH's Board of Trustees. "From the day-to-day operations of the hospital to long-term strategic initiatives, he has always stayed focused on evolving the hospital to meet the needs of our community, including the current pandemic. He's a compassionate leader who truly cares about each one of his employees, famously knowing each staff member's name and always having an open-door policy. He will be missed by all."
MWPH's Board of Trustees will be hiring a firm to conduct a national search for Stein's successor. Ideal candidates will be committed to founder Hortense Kahn Eliasberg's vision for helping children heal and transition back to healthy lives regardless of their ability to pay.
About Mt. Washington Pediatric Hospital: Celebrating 100 Years
Mt. Washington Pediatric Hospital celebrates 100 years of providing family-focused, coordinated care to all children, including those with serious, chronic, or complex medical needs. MWPH was founded in 1922 by Hortense Kahn Eliasberg, who sought to open a home where children could safely recover from illness and surgery. Today, 100 years stronger, the hospital treats more than 8,500 patients each year, helping them to heal, grow, and learn the skills that lead to happier, more independent lives. The 102-bed hospital is a jointly owned affiliate of the University of Maryland Medical System and Johns Hopkins Medicine with locations in Baltimore City, Prince George's County, Harford County, via Telehealth, and in the community. For more information, please visit mwph.org.