Registered Nurse (RN) Careers
Nursing staff at MWPH provide advanced-level transitional and rehabilitative care to infants and children coming from acute care hospitals or, occasionally, the community with a broad range of illness, injury and congenital anomalies. Many of our patients come from Shock Trauma, Neonatal Intensive Care, Newborn Nursery or Pediatric Intensive Care. There is a significant focus on patient and family education in preparation for discharge, which usually occurs for most patients two to four weeks after admission. As an RN in our unique environment, you'll have value-added time to develop that special bond and help prepare the family for care at home or in the community.
Experience the MWPH difference.

A registered nurse workforce of more than 50% BSNs
Shared governance model where nurses play an active role in decision-making, safety policies, quality management and leadership that affects their practice
Three-level clinical ladder with several tracts that enable RNs to advance
Flexible and compressed work schedules available in a variety of areas
Upon joining the nursing team, you'll have several days of classroom instruction before joining a group mentor for specific unit-based skills. After six shifts with your group mentor you will be assigned to a preceptor for the remainder of your 10-week onboarding. As an MWPH nurse you will have ongoing opportunities to participate in additional educational offerings to enhance your clinical and critical thinking skills and facilitate your professional growth.
Whether you're an experienced RN or are just beginning your career in Pediatric Nursing, join MWPH and discover the ultimate in compassionate care.
Learn more about RN opportunities at Mt. Washington Pediatric Hospital.
What Can You Expect After You Apply?
We'll give your career our personal attention from day one.
We're a team at Mt. Washington Pediatric Hospital. So, after your initial interview, you'll have the opportunity to attend a "share day" to see how we work together on a daily basis and determine whether or not you would be a good fit for the team. If you are new to pediatrics, it's also your chance to experience exactly what it's like to be a pediatric nurse, so you can decide if you'd like to take advantage of our training opportunities.
After hire, you'll have six days of classroom orientation during which you'll learn from experienced pediatric nurses, as well as members of the interdisciplinary team. You'll take part in individualized, unit-specific orientation, and partner with a preceptor for 6 to 10 weeks. You'll also have the chance to take part in educational offerings, like our Stepping Stones Program, to enhance your clinical and critical thinking skills and facilitate your professional growth.
Small facility. Tremendous clinical variety.
Our nursing staff functions in many different areas, including Inpatient Units, Outpatient Clinics, Patient External Transport and Day Programs. They also serve as Care Managers, Hospital Liaisons, Nursing Education Specialists and Infection Preventionists. Leadership roles are also available for Nurse Directors, Managers and Nursing Supervisors.
Why Join the MWPH Team?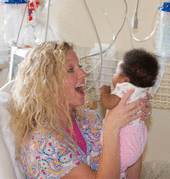 "The first thing I noticed about Mt. Washington was that the staff-my co-workers-were so helpful. They never made me feel like I was out there by myself. Everybody wants you to succeed. It's a very supportive environment.
I've spoken with a lot of my friends who graduated the same year. They're in bigger hospitals and many are stuck where they are and don't like what they're doing. Our smaller size means there's more I can learn and experience here. The opportunities are endless."
Megan, RN