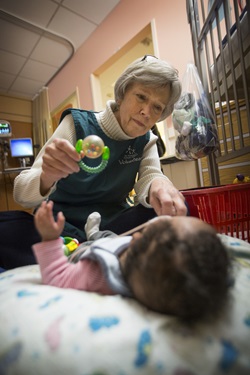 Volunteering During COVID:
We are still accepting applications to volunteer for anyone over 18.
Baltimore: Due to the increase in applicants for the Child Life department, the processing time has increased.
Largo: Cuddler positions at the MWPH at UM Capital Region facility are open. Child Life positions will be opening in November.
If You Love Children, You'll Love Volunteering
Just how gratifying is it to help a child lead a happier, healthier life? Find out by joining the dedicated men and women who volunteer at Mt. Washington Pediatric Hospital.
As a pediatric rehabilitation hospital, MWPH offers inpatient and outpatient care for infants and children with rehabilitation and special medical needs. Rehabilitation is a journey, and one that is made better with a helping hand and a caring heart.
Our volunteers help support the patients and staff at MWPH by providing a variety of services including, clerical support, hospitality, companionship and play with school aged children, age appropriate developmental stimulation to infants and toddlers.
How Can You Help?
Working directly with children to help them reach developmental goals
Assisting with field trips
Delivering refreshments and other items via the hospitality cart
Greeting and hosting visitors
Monitoring the outpatient waiting room
Performing clerical duties