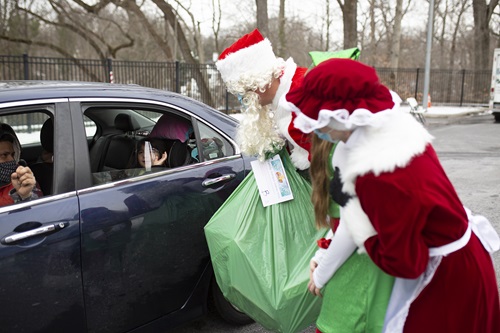 9th Annual Holiday Toy Shop, December 18 — In-person or Drive Thru
It's our centennial year and we are celebrating it with spreading holiday cheer to the patients, families and community we serve. Register for our 9th Annual Holiday Toy Shop.
To ensure our families have the best experience, we will be offering two shopping options:
I. In-person Shopping (individual will schedule a timeslot to shop for toys along with a shopper).
II. Drive-thru Shopping (for those who prefer contact free participation. Toys will be pre-selected by Santa's helpers and ready for pick up during the designated timeslot selected).
*** Please note. Childcare will not be provided for this event. Children will not be permitted for in-person shopping. Those needing childcare should select drive thru shopping option. ***
Register your child/family
English form, click here.
Spanish form, click here.
Volunteer
To sign up to volunteer, please click here.
Donate Toys
Thank you for your donation! As a friendly reminder, due to the infection prevention policies, we ask for NEW TOYS only. Also, no fabric, food-related, or violence-related items. Please plan to drop off or have your donation delivered by December 14.
Three Ways to Donate
Drop off
Mt. Washington Pediatric Hospital
1708 W. Rogers Ave.
Baltimore, MD 21209
Mail
To choose from our Amazon Wishlist and have it shipped directly to MWPH. Click here
Corporate Donations
Want to have your company or group start a donation collection? Please call 410-578-5315 or email [email protected]. We would love to set up an opportunity for delivery and group photo.