Mt. Washington Pediatric Hospital Announces New Board Members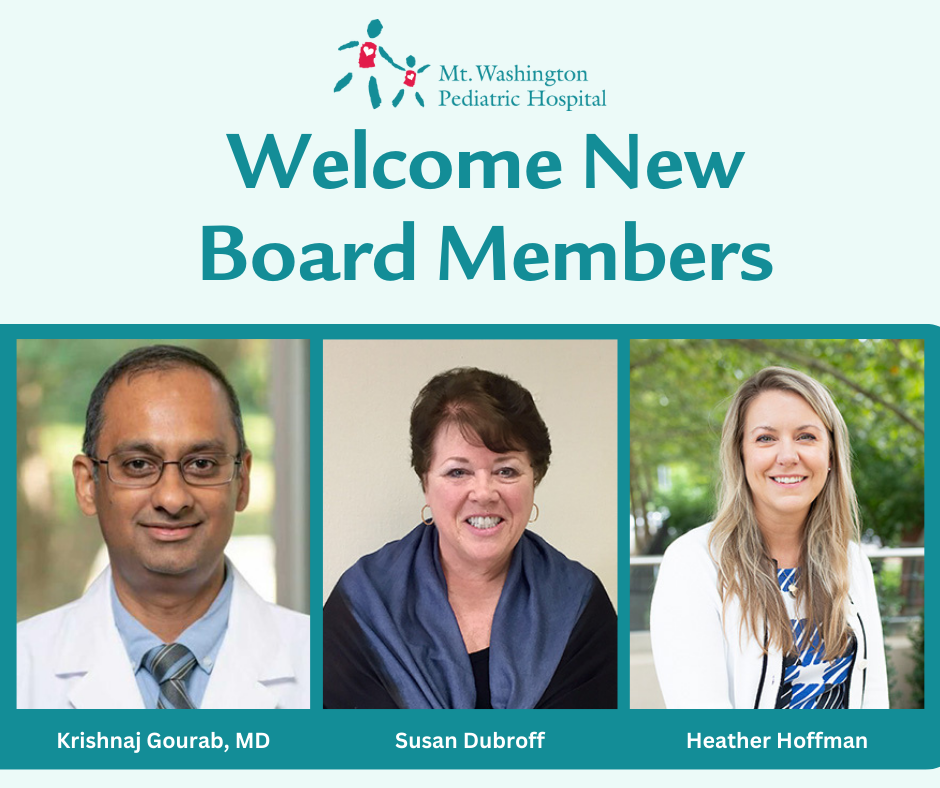 Baltimore, MD (July 19)—The Mt. Washington Pediatric Hospital Board of Trustees (Hospital Board) and the Mt. Washington Pediatric Foundation, Inc. (Foundation) announced newly elected trustees to their respective boards. Dr. Krishnaj Gourab has been appointed to the MWPH Board of Trustees, the hospital's advisory board. Susan Dubroff and Heather Hoffman have been appointed to the Foundation Board, the hospital's community outreach board. Confirmed by the Hospital Board at its annual meeting, these new trustees will help further the hospital's mission to provide support for the highest quality patient care programs for infants, children, and adolescents.
Susan Dubroff
Hired in November 1990 to work at Mt. Washington Pediatric Hospital as an assistant director of Rehabilitation Services, Dubroff was promoted to Director, Rehabilitation Services, and served in this role until retirement in December 2021. During her 31 years at the hospital, she developed, mentored, and grew a staff of 15 to 82 employees. At the time of her retirement, she supervised staff in the Occupational Therapy, Physical Therapy, Speech and Language Pathology, Child Life and Recreational Therapy, Adaptive Equipment, and Audiology departments. For 15 years, she served as a surveyor for CARF, Commission on the Accreditation of Rehabilitation Facilities, and was able to travel worldwide to evaluate the quality of rehab services provided to children, including serving as the lead in securing CARF accreditation for MWPH. Dubroff, and her husband Richard, are philanthropists and recently made a gift in support of the new Ability Center, naming the Dubroff Ability Gym for Rehabilitation.
Dr. Krishnaj Gourab
Gourab currently serves as the Chief Medical Officer and Vice President of Medical Affairs at the University of Maryland Rehabilitation & Orthopaedic Institute. He is a voluntary adjunct associate professor in the departments of Neurology and Orthopaedics at the University of Maryland School of Medicine. Dr. Gourab also serves as adjunct faculty in the division of Biomedical Informatics and Data Sciences at Johns Hopkins University School of Medicine. In addition, he serves in various clinical and informatics committees in the University of Maryland Medical System.
Heather Hoffman
Hoffman is a Senior Vice President with M&T Bank and leads the Affluent Segmentation Team working across the M&T Consumer and Wilmington Trust Wealth Management divisions. In this capacity, Heather leads a cross-functional team focusing on building personalized offerings for affluent customers. Hoffman is also a former patient parent and has served in several leadership capacities at the hospital, including current chair of the MWPH Horizon Legacy Planning Society and chair of the 2018 Storybook Gala.
"As I begin my tenure, it is an honor to welcome these three amazing community leaders and industry professionals to the MWPH leadership family," said Dr. Scott Klein, MD, MHSA, president and CEO of MWPH. "The work of our dedicated team of clinical and non-clinical colleagues is made better by their support and advocacy. I'm fortunate to be able to work alongside them and look forward to years of nurturing our patients and families as they continue to heal and grow."
About Mt. Washington Pediatric Hospital
Mt. Washington Pediatric Hospital has provided more than 100 years of family-focused, integrated care to children with serious, chronic, or complex medical needs. MWPH was founded in 1922 by Hortense Kahn Eliasberg who sought to open a home where children could safely recover from illness and surgery. Today, the hospital treats over 8,500 patients each year and provides nearly 60,000 outpatient visits to help children heal, grow, and learn the skills that lead to happier, more independent lives. The 102-bed hospital is a jointly owned affiliate of the University of Maryland Medical System and Johns Hopkins Medicine with locations in Baltimore City, Prince George's County, in the community in Harford County, and via TeleHealth. For more information, please visit mwph.org.