Prince George's County Sleep Center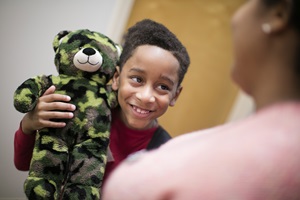 The Prince George's sleep center offers overnight sleep studies for the evaluations of obstructive sleep apnea and will serve children over the age of one who do not have complex medical issues.
The sleep center is dedicated to the care of pediatric patients and includes a state-of-the-art two bed sleep laboratory, highly trained technicians and child-friendly rooms. Each room contains a second bed for a caregiver to spend the night with the child. (Accommodations for non-English speaking patients are available with advance notice.)
Studies are evaluated by nationally recognized pediatric pulmonologists from The Johns Hopkins Children's Center.
Get directions to the Prince George's sleep center.
Once inside the hospital, please ask the information desk to direct you to the "Tower Elevators". Take elevators to the 6th floor and make a left and proceed to the inpatient unit. To request access, pick up the red telephone.