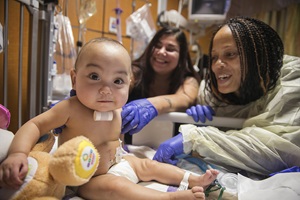 The Baltimore sleep center is pleased to offer comprehensive evaluation and care for children ages infant to 18. Our Baltimore laboratory can care for all children, including those with complex medical issues. Studies done in this laboratory include evaluations for:
Snoring and suspected obstructive sleep apnea syndrome
Known obstructive sleep apnea syndrome requiring CPAP or Bilevel therapy
Suspected sleep-related respiratory failure or apnea related to neuromuscular disease such as muscular dystrophy, spinal muscular atrophy or cerebral palsy
Conditions that increase the risk of sleep disordered breathing such as obesity, Down syndrome and achondroplasia
Children with other sleep problems including narcolepsy, circadian rhythm disorders and parasomnias
The center has a multi bed state-of-the-art sleep laboratory that operates seven days a week. Our laboratory is accredited by the American Academy of Sleep Medicine and is dedicated to the care of pediatric patients with highly trained technicians and child-friendly rooms. Each room contains a second bed for a caregiver to spend the night with the child. (Accommodations for non-English speaking patients are available with advance notice.)
To assure that the most appropriate study is done in the laboratory, it is required that children with the following are seen in clinic prior to a sleep study:
Children under the age of 1 year
Children with complex medical issues
Children with behavioral issues that may make having a sleep study difficult
Children on oxygen, ventilators, with a tracheotomy, on CPAP or BiPAP.
Specialized sleep laboratory studies to evaluate children for nighttime seizure activity, and narcolepsy are also available. Prior evaluation in clinic is required for these studies.
Get directions to the Baltimore sleep center.